Dear Parents, Friends, Staff and Students of Caroline Chisholm College,
We have now entered the season of Lent, a time of reflection, penance and preparation for the commemoration of the greatest moments in our faith: the death and resurrection of Jesus Christ. In listening to the words of our Bishop Vincent, I am praying that this period of 40 days will be blessed by a deepening of our faith and our commitment to bringing God's love to the world in small and big ways.
As I indicated in our first newsletter of the year, we are launching our agenda for the next three years that will shape every aspect of the college's and our students' lives. Over the coming weeks, I will write to you about these developments and I invite your engagement and feedback with these plans. It is important that we are open to discussing these plans because, ultimately, they will affect the quality of learning and life here at the college.
It is my privilege to present the 5 Transformations Agenda to our community. The world is changing, and our college must adapt and respond in ways that remain true to our mission, whilst also giving the students in our care every opportunity to grow and thrive in this changing world. I am immensely proud of the teachers and support staff of the college who, every day, approach their work with energy, optimism and creativity. I am also very grateful to our parents who entrust us with their most precious children. I look forward to engaging with our community about these five exciting transformations in learning at Caroline Chisholm College.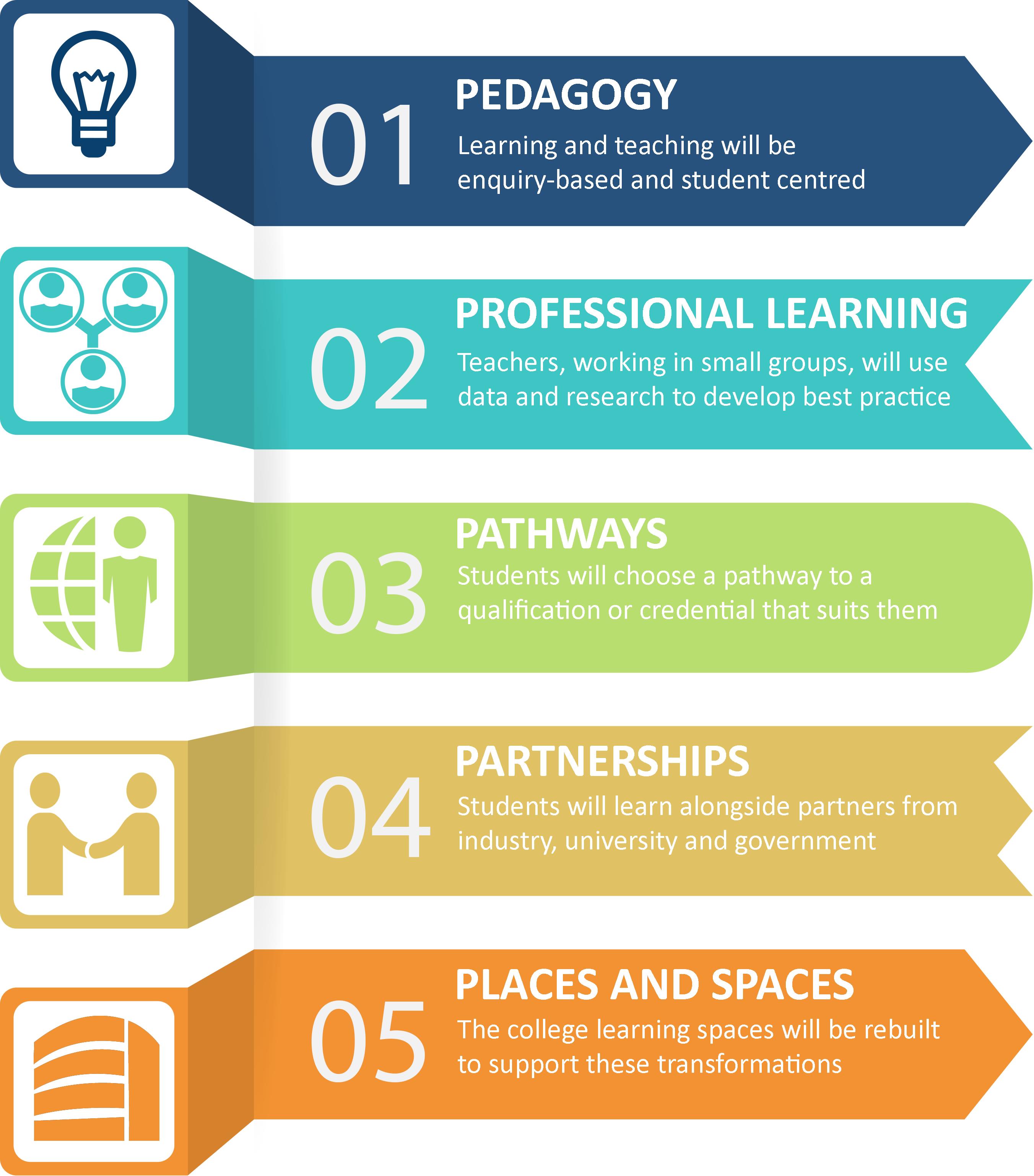 In the first instalment, we will outline the reasons why transformation of Caroline Chisholm College is necessary.
Why 'transform'?
Our college Mission Statement declares that the college will provide young women with "a quality Catholic education which promotes a passion for learning, develops skills for living and inspires an ongoing search for meaning." Just like in 1838, when Caroline Chisholm arrived in Sydney, our nation and our world are undergoing dramatic changes: socially, environmentally and economically. Our college is committed to preparing our students to thrive in this changing world and to become active agents of justice and creativity in their communities.
If we were to continue 19th Century educational practices that only focus on students memorising facts from a textbook, or rewriting answers given to them by the teacher, we will not develop a passion for learning, develop skills for living or inspire an ongoing search for meaning. This is why learning must be transformed.
Our '5 Transformations' agenda acknowledges the profound shift that has occurred in Australian and global culture, a shift that has been facilitated by technology and by a radical growth in connections and in access to knowledge networks. Our students are already deeply engaged with this connected, knowledge-rich world. By transforming the experience of learning, we can harness this awesome power to build our students' capacity to learn, create and adapt to this fast-changing environment. At the same time, we must help our students discover and nurture their character strengths, so that they can develop the emotional intelligence and mental toughness to remain healthy and face uncertainty with confidence, hope and creativity.
As we serve the Gospel, our college is called to be the yeast that brings forth an abundance for the students in our care (cf Matthew 13:33). As a ministry of the Catholic church, we are guided by God's spirit, like the prophets in the Bible, to discern a way forward by studying the signs of the times (cf: 2 Peter 1:21).
The debate about 'what works' in education has been settled and the questions about how young people learn best have been authoritatively answered. What remains is the courage to bring about the change that our students need and deserve. This is not an agenda about specific technologies or classroom practices that may help students get better results in examinations, but a declaration of our agreed, shared understanding of the principles that should shape ALL learning at the college. In this sense, this is a clarification of the values of learning, the attitudes and concepts that inform each decision about the curriculum at Caroline Chisholm College.
The 5 Transformations will build on the excellent learning already happening at the college, and are based on our best understanding of the educational, social and spiritual needs of girls in Western Sydney. The transformations will provide the tools, capabilities and values to allow our students to flourish, and position Caroline Chisholm College as a leader in the field of education.
In our next instalment of the 5 transformations, I will share our understanding of the local and global context that demands so much of our young people.
Please join with me in praying for the work of the college as we face these transformations with faith, courage and trust in God's providence.
Loving God,
You told the apostles to push out into the deep.
Grant us courage as we build a future for our students and our college.
Bless our teachers with the energy and hope to devote their creative energy to our students.
Bless our parents with the knowledge that all we do is for the care and flourishing of our students.
Bless our students with hope and deep trust in your love for them.
Mr Greg Elliott
Principal