By transforming the experience of learning, we can harness this awesome power to build our students' capacity to learn, create and adapt to this fast-changing environment.
The world is changing, and our college must adapt and respond in ways that remain true to our mission, whilst also giving the students in our care every opportunity to grow and thrive in this changing world.
Transformation: a marked change in form, nature or appearance
---
Why transform?
Our college Mission Statement declares that the college will provide young women with a quality Catholic education which promotes a passion for learning, develops skills for living and inspires an ongoing search for meaning. Just like in 1838, when Caroline Chisholm arrived in Sydney, our nation and our world are undergoing dramatic changes; socially, environmentally and economically. Our college is committed to preparing our students to thrive in this changing world and to become active agents of justice and creativity in their communities.
If we were to continue 19th Century educational practices that only focus on students memorising facts from a textbook, or rewriting answers given to them by the teacher, we will not develop a passion for learning, develop skills for living or inspire and ongoing search for meaning. This is why learning must be transformed.
Our Transformations agenda acknowledges the profound shift that has occurred in Australian and global culture, a shift that has been facilitated by technology and by a radical growth in connections and in access to knowledge networks. Our students are already deeply engaged with this connected, knowledge-rich world. By transforming the experience of learning, we can harness this awesome power to build our students' capacity to learn, create and adapt to this fast-changing environment. At the same time, we must help our students discover and nurture their character strengths, so that they can develop the emotional intelligence and mental toughness to remain healthy and face uncertainty with confidence, hope and creativity.
As we serve the Gospel, our college is called to be the yeast that brings forth an abundance for the students in our care (cf Matthew 13:33). As a ministry of the Catholic church, we are guided by God's spirit, like the prophets in the Bible, to discern a way forward by studying the signs of the times (cf: 2 Peter 1:21).
The debate about what works in education has been settled and the questions about how young people learn best have been authoritatively answered. What remains is the courage to bring about the change that our students need and deserve. This is not an agenda about specific technologies or classroom practices that may help students get better results in examinations, but a declaration of our agreed, shared understanding of the principles that should shape ALL learning at the college. In this sense, this is a clarification of the values of learning, the attitudes and concepts that informs each decision about the curriculum at Caroline Chisholm College.
The 5 Transformations will build on the excellent learning already happening at the college, and are based on our best understanding of the educational, social and spiritual needs of girls in Western Sydney.
The transformations will provide the tools, capabilities and values to allow our students to flourish, and position Caroline Chisholm College as a leader in the field of education.
---
Will everything change?
No. Caroline Chisholm College is a great school with a superb reputation in the community. This reputation has been earned by students, staff and parents over decades of quality education. The values and principles of excellence will continue to be at the heart of our enterprise. Specifically, some things which are not-negotiable in this process include:
Catholic learning and culture is central to our mission.
Student wellbeing and pastoral care are the foundations of good learning here.
Our curriculum will be broad and develop the whole person.
Literacy and numeracy will continue to be critical to learning.
No one subject or discipline will take precedence over another (except for Religious Education).
Resources will be distributed according to the needs of students and their learning.
Partnership with parents is the starting point of a child's education at Caroline Chisholm College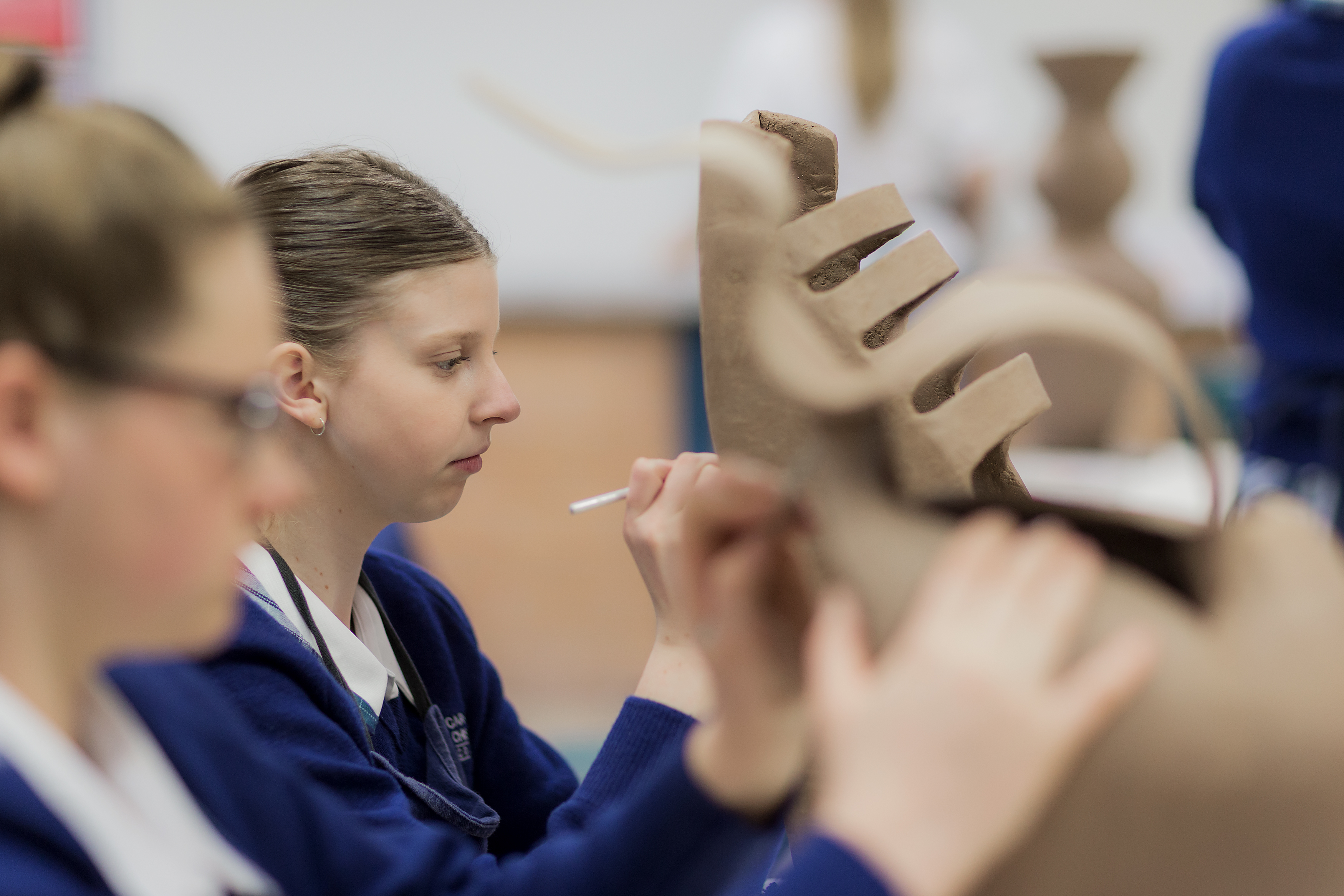 ---
The global context
By 2025, automation, globalisation and flexibility will change what we do in every job. These changes have already begun to affect people's lives. Although employment rates will fluctuate in line with international and local economic forces, fundamental shifts in work and community life will have a profound impact on the nature of work and life in Australia.
Other futurists have estimated that automation, robotics and artificial intelligence will have profound impacts on education and employment, with up to 45% of all entry-level jobs disappearing in the coming years.

The OECD predicts that Australia will enjoy economic growth for the coming several years, coupled with a continuing decline in wealth from the resources sector. The economic transformation in the fields of services and technology innovation will be the sectors that will thrive in relationship with the rest of the world. Education may well become one of our largest international exports. Policy instability at a federal level, in the fields of science, technology and foreign aid must be resolved for growth to continue. The challenges of climate change, the mass migrations of peoples and the globalisation of capital and labour will need to be addressed as they pose risks to our national security and our economy.
According to The Foundation For Young Australians (FYA), workers will spend 30% more time at work engaged in learning activities to respond to the changing nature of their work. There will be a 100% increase in the amount of work-based problem solving, and a 50% reduction in time spent on administration, management and organisation. There will be a clear expectation that collaborative problem solving is a fundamental part of the work. Further, they predict that flexibility and the application of technology will change the shape, pace and place of work, with more opportunities for flexibility and mobility in work. FYA have categorised these challenges as smart learning, smart thinking and smart doing.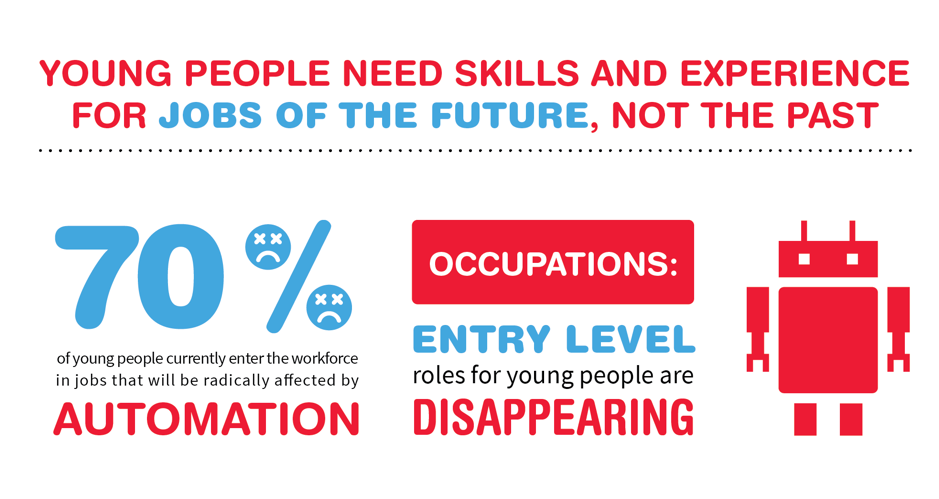 ---
What happens when we challenge what it means to be 'smart'?
The Foundation for Young Australians describe the following as a means by which schools should respond to the emerging demands of life in a modern community:
Around the world, the most progressive education systems are focusing on developing the new work smart workforce of the future. They offer immersive, project-based and real-world learning experiences that go beyond the classroom environment, such as working with local businesses or facilitating art and film projects in local communities. These learning experiences are best suited to developing the future-proof enterprising and career management skills that will be most in demand and most highly portable in the future of work, and instil in young people the enthusiasm for ongoing learning that will be critical for their future success.
As a Catholic school, we look to these challenges and innovations with hope. We are committed to providing a broad curriculum that educates the whole students, and we acknowledge the importance of a school experience that encourages students to develop skills and experiences in all areas of learning, and we value the arts, cultural studies, languages and technical subjects as powerful ways of coming to understand the world.