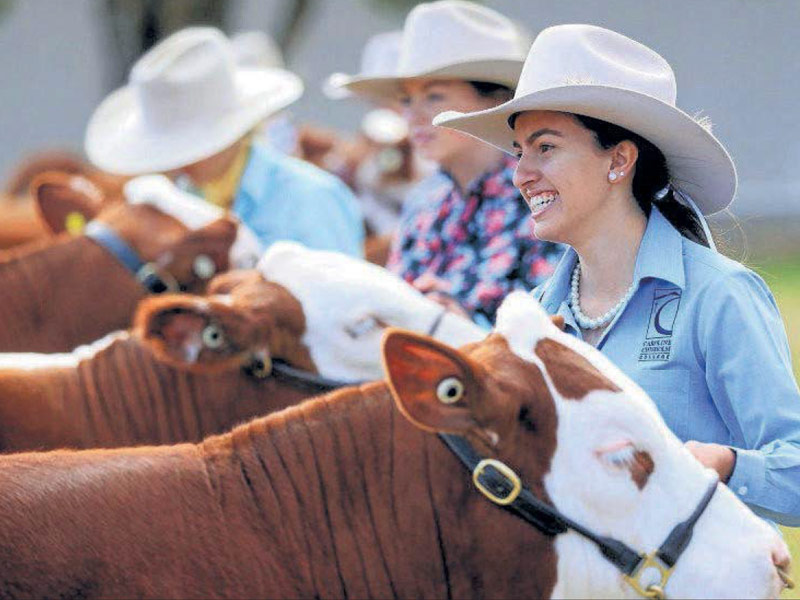 LIVE DAY: Pupils from Caroline Chisholm won the competition overall. This picture was taken during the Live Day at Hawkesbury Showground in August. Picture: Geoff Jones
Bede Polding College won Students Choice (Display), and Champion Junior Teams, while Colo High School took away the Champion School - Combined Beef Appraisal Team award, at this year's UniSchools Steer Challenge.
The team from WSU Hawkesbury took out the Champion School - Steer Weight Gain medal in the competition, in which 12 high schools each raised a steer over 100 days and were judged on their showmanship and performance of themselves and the cattle they were looking after.
Caroline Chisholm High School at Glenmore Parkwas named overall winner of the 2019 competition.
This is first time in 19 years that an all-female team had won the competition, which is managed by Western Sydney University's Hawkesbury campus in partnership with schools.
"UniSchools teams this year presented at an exceptional standard and I found the teams' abilities to work together, present their work in speeches and presentations and deliver a beautifully finished and well-cared for steer at the end is a real credit to our local young people", said UniSchools Challenge Coordinator Adjunct Professor Stephen Blunden.
The schools celebrated the end of their time with UniSchools 2019 at an awards ceremony at the Hawkesbury campus followed by a bush dance and dinner at the historic Memorial Hall.
The program offers students an engaging and practical look at livestock production and potential career pathways across food and agricultural industries.