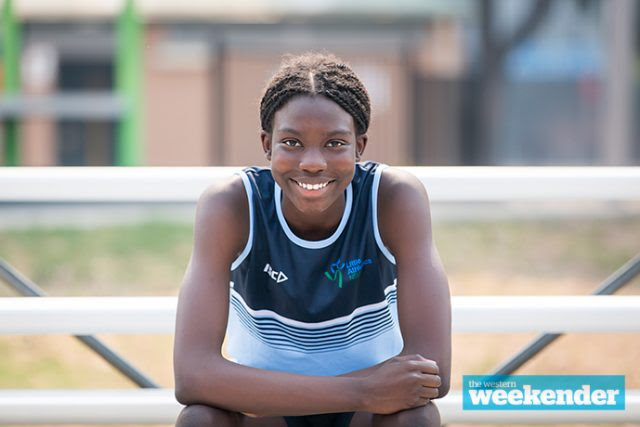 Raphaila Idris has the Olympics in her sights. Photo: Megan Dunn
While athletes all over Australia are gearing up for next year's Olympic Games in Tokyo, local teenager Raphaila Idris has her eyes firmly set on Paris 2024.
The highly accomplished athletics star is enjoying her best year in the sport to date, winning a swag of medals for sprinting, long jump and triple jump at recent competitions.
In September the 13-year-old set a new triple jump record at the NSW ALL Schools Championships when she leaped an incredible 11.54m – beating the old record by 7cm.
Raphaila's amazing feat saw her land a place at next month's Australian All Schools Championships in Perth.
The Year 8 Caroline Chisholm College student has only been competing in triple jump for roughly two years but is already the best in her age group.
"My personal best in the triple jump is 12.15m, so I was very confident heading into the NSW All Schools Championships," Raphaila told the Weekender.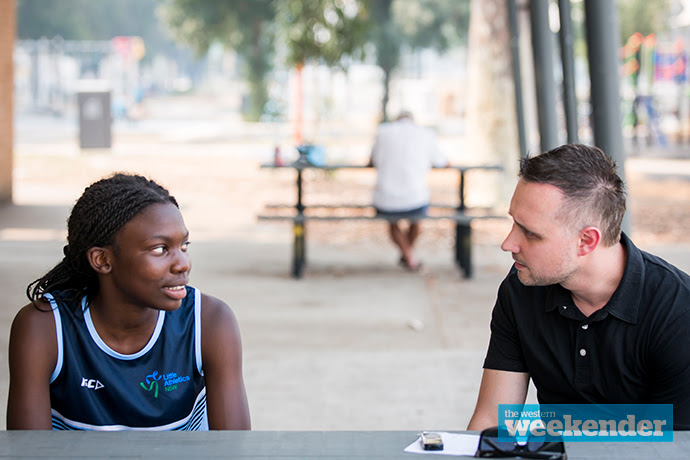 Raphaila Idris chatting with Nathan Taylor. Photo: Megan Dunn
"I only started doing triple jump at around 11 or 12 because that's when you're introduced to it. I found I really liked it and ended up sticking with it."
While Raphaila is impressing her coaches and friends at school with her remarkable sporting prowess, she knows her family will keep her grounded and aiming for more.
"This is probably my best year in athletics by far… it's quite overwhelming and a lot to take in," she said.
"My family are very proud of me but they expect more – they set the bar high and it's sometimes hard to impress them."
Not only is Raphaila a star in the sandpit, she's also a weapon on the running track. The self-confessed 'fastest girl in Penrith' said her sprinting capabilities have helped her immensely with triple jump.
"My personal best time for the 100m sprint is 12.06 seconds," she revealed.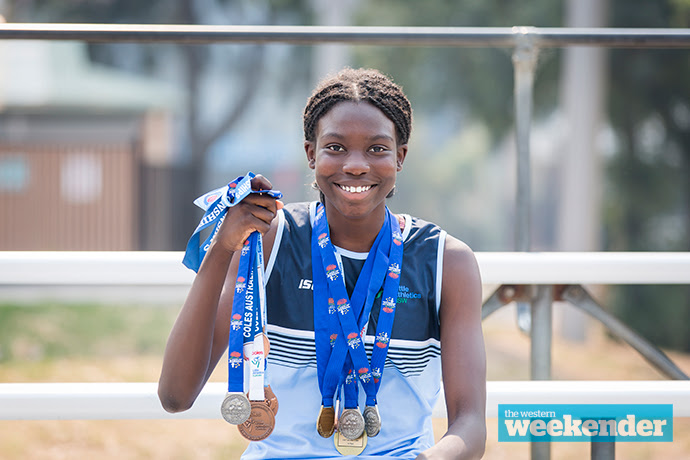 Raphaila Idris with some of her recent medals. Photo: Megan Dunn
"We have to sprint a lot at training to make us faster on the runway. You have to attack the board when you hop, so the faster runner you are the better."
While the 2024 Paris Olympics are still five years away, Raphaila can't stop thinking about them. She knows she has a long way to go to achieving her goal of being an Olympian but she's already proving she has the ingredients to be Australia's next great athletics star.