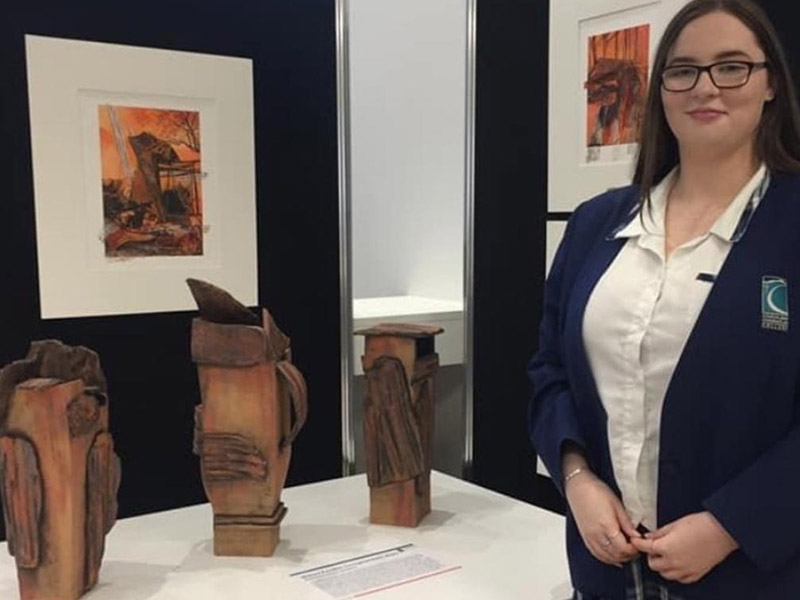 ARTEXPRESS: Melissa Knowles, 17, from Caroline Chisholm College, with her artwork.
It was a tough year to be a student, but the class of 2020 drew inspiration from natural disasters and a global pandemic to create some incredible artworks, including Melissa Knowles, from Caroline Chisholm College Glenmore.
The creme de la creme of bright, young artists are currently displaying their work in Sydney.
All of the exhibitors are students who created their work for the 2020 HSC Visual Art exams, during the catastrophic Australian bushfires and a global pandemic.
The free exhibition being held at the Sydney Olympic Park Armory Gallery displays inspiring artworks from 59 of the state's young artists.
The theme of this year's ARTEXPRESS is Threads of Connection.
"Several artists have found inspiration from the unpredictability of life and a reassessment of the way we have lived and interacted in society," shared ARTEXPRESS at the Armory curator Danielle Gullotta.
"The bodies of work draw our attention to the impacts of climate change and technology, addressing imbalances in the natural world, and seeking an understanding of the importance of the threads of social connections for our collective wellbeing."
---
Melissa Knowles (Age 17)
Q: What's the inspiration for your artwork?
A: The 2019-2020 bushfires around Bilpin.
Q: How do you feel about having your work exhibited?
A: Over the moon! It's just so great to see them up and exhibited. It makes me feel so proud that I was able to achieve it.
Q: What's next?
A: What career are you hoping to pursue? I'm now going to Notre Dame University and studying a Bachelor of Nursing.
---
View the rest of the top artists here
Learn more about Caroline Chisholm