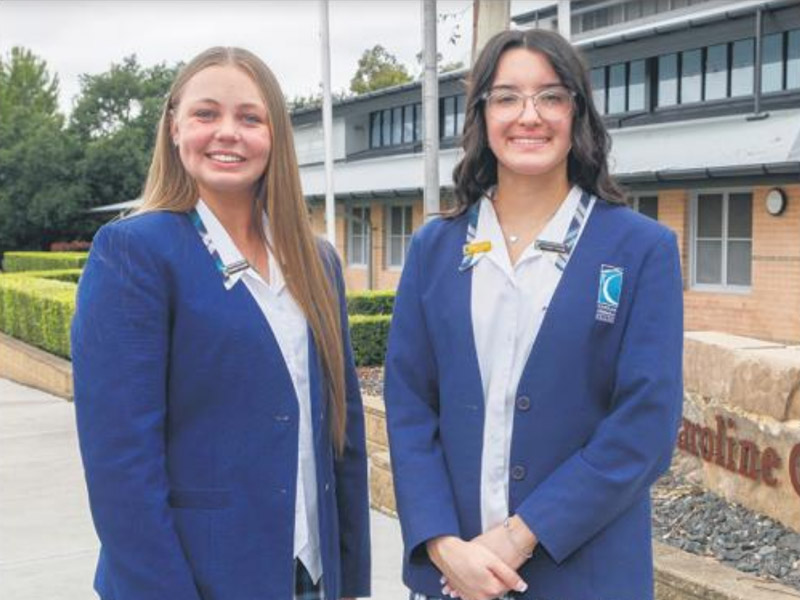 Caroline Chisholm students Mia Hoskin and Hannah Stephan. Photo: Melinda Jane
In a huge win, local Year 12 students inundated with early university offers
With the HSC wrapped up for another year, Year 12 students are patiently waiting to see their ATAR marks early in the new year.
A large group of local students have already secured their places in tertiary education, taking advantage of universities' early offer programs.
Caroline Chisholm College Acting Principal, Deborah Scollard, said she is extremely proud of her students, who received early offers for a range of courses.
"More than 90 per cent of our girls who want to go to university have received early offers this year, and to date we have counted 327 individual offers to students," she said.
"With a challenging year, to have their commitment to study rewarded and the opportunity of multiple options for women in western Sydney to access top notch universities is amazing." Caroline Chisholm student Hannah Stephan received 13 offers from nine different universities.
"I got offered a range of courses including social work, law and psychology, but I have accepted and enrolled in UTS for Design in Architecture and a Masters of Architecture," she said.
"COVID-19 was understandably quite challenging so the early entry program took a lot of pressure off me so I could try my very best knowing I already had a spot in university." Western Sydney University launched its 'True Reward' early offers program in 2017 based on HSC subject results.
Making 7,000 offers for students to attend in 2020, it increased to more than 15,000 in 2021 and has already made 9,000 offers for students to study in 2022, with thousands more predicted to come.
Fellow Caroline Chisholm student Mia Hosking said she was also pleased to take advantage of early offers.
"I received eight offers across seven universities mostly under the health science branch and I have decided to study nursing with Australian Catholic University," she said.
"Our teaching staff were amazing, and I had the best friends to support me through this time as I tried my best to achieve what I wanted to for myself."