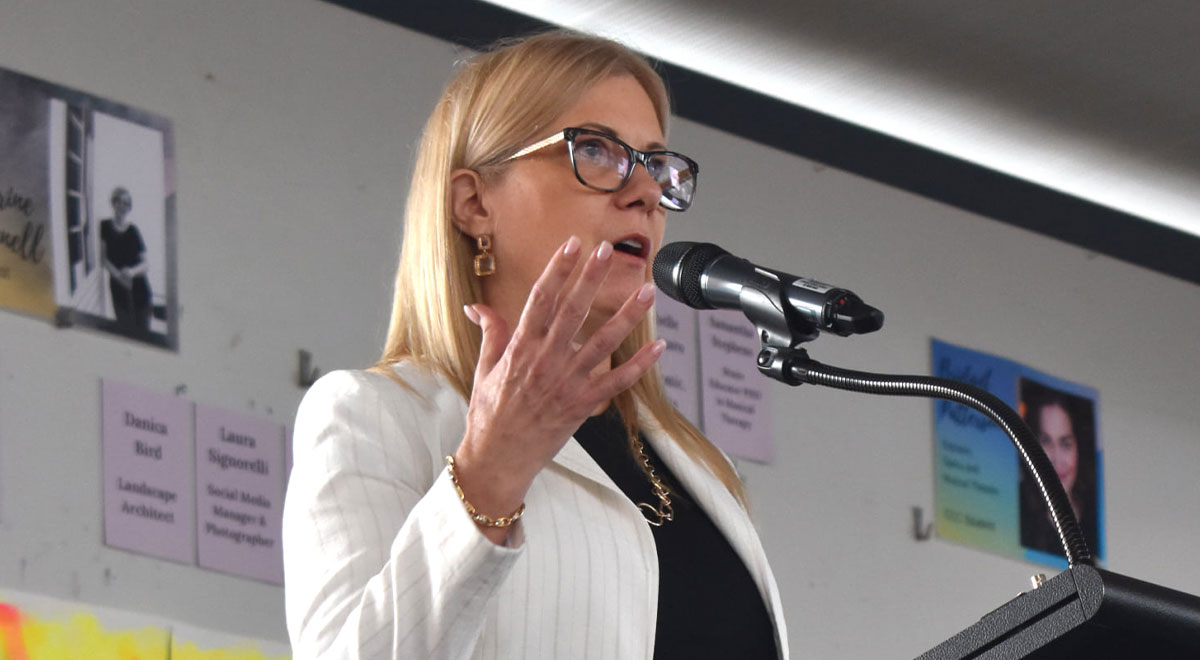 Caroline Chisholm College Glenmore Park Principal Tania Cairns.
Name:
Tania Cairns
Title:
Principal at Caroline Chisholm College Glenmore Park.
What do you do in your job?
No two days are the same. I love greeting students as they arrive at school, visiting classes and learning about students. I meet with staff and students throughout the day, listening to concerns, solving problems and ensuring optimal learning and wellbeing.
What first sparked your interest in teaching, and what have you done?
I'm inspired to make a difference to the lives of young people who face challenges like climate change, increasing mental health needs and the dynamic nature of the future of work. I love being a positive role model, inspiring students to be all they can be.
I have worked in a variety of roles in Catholic education over the last 35 years, from PDHPE teacher to leadership roles in learning, curriculum, school compliance and wellbeing. I was Principal of Penola Catholic College before becoming Principal Leader of Caroline Chisholm College, an all-girls' college in the heart of Western Sydney, Penrith.
What do you like most about the job?
I love responding to new challenges each day, creating a learning community where positive relationships are at the forefront of all we do. We want our students to experience success each day and have strong, caring support networks to grow and flourish.
What was the most unexpected thing you have had to do in your job?
I have taught many different subjects, but the most unusual was a Year 12 Living Skills course that involved changing car tyres, checking oil and preparing meals on a budget. It was a lot of fun.
What is the worst thing you have had to do?
The most difficult aspect has been dealing with the loss of a student or staff member. It's hard to be the "tower of strength" when you are also impacted by such events. My faith gives me strength and empathy as a leader to support my community in those times.
What challenges have you faced during the pandemic?
It has been a challenge that has changed the nature of teaching and learning but also helped us to better appreciate the "real" face-to-face experience we have as a community of learners. Educators learned we are more adaptive, innovative and creative than we ever imagined. Students were receptive to online learning but very excited about the social dimensions of returning to school.
How transferable are your skills?
Our interpersonal and relational skills allow us to work in a variety of ways and contexts. Very applicable skills from my postgraduate health qualifications and past customer service roles are effective communication, creative thinking, problem-solving and critical thinking, collaboration and empathy.
What advice do you have for people wanting to get into teaching?
Teaching is an incredibly rewarding career where you play a part in shaping the lives of young people, creating opportunities where they aspire to achieve exceptional goals and enjoy a worthwhile and fulfilling future.
What personal skills do people need?
Most important are being able to listen carefully, be patient, communicate effectively, be adaptive, think creatively and always be empathetic to students as learners. Teachers need the ability to multitask and to collaborate.