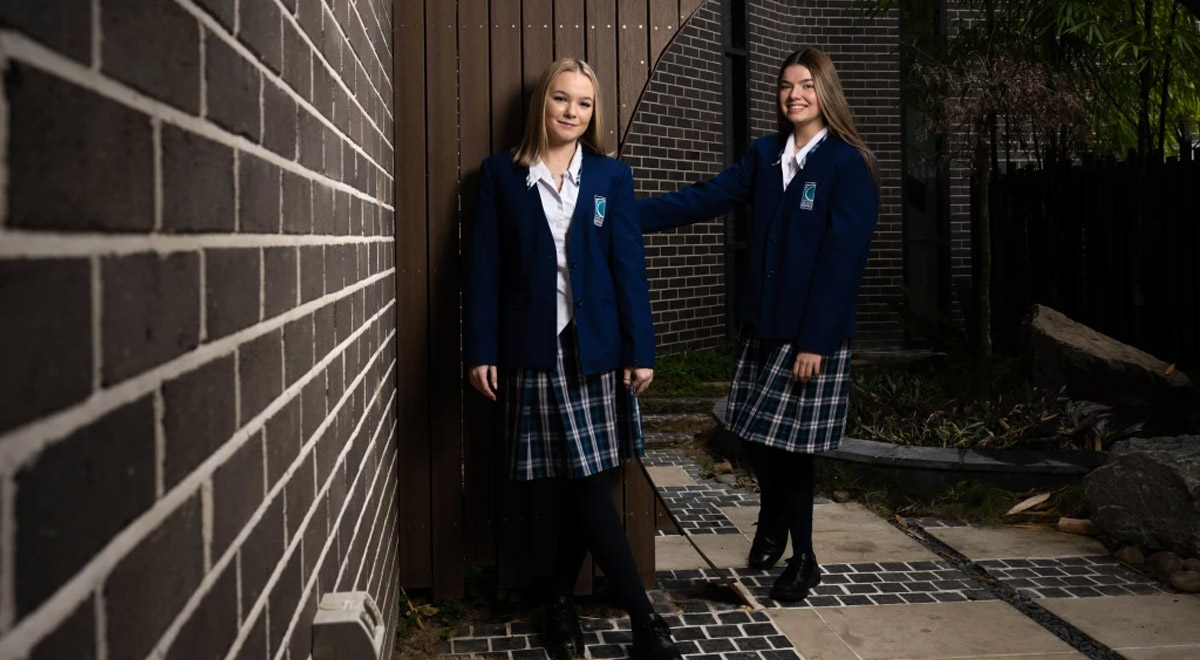 Caroline Chisholm College year 12 students Ashley Horsnell and Ella Yeomans have already received university offers for next year. Photo Credit: Janie Barrett
Universities are in an early race to lock in enrolments for next year, handing out a record number of direct early offers to students before they have begun their final year 12 exams.
Thousands of offers to HSC candidates have already been made for 2023 courses amid a growing trend to bypass ATAR results that has led student applications through the Universities Admissions Centre (UAC) to increase fourfold since 2014.
Students and some principals say the practice has eased stress and anxiety for students whose final years of school have been disrupted by COVID-19. But critics are concerned with the rapid growth in early offers and say it can lead to students slacking off before their final exams, which start on October 12.
Higher education expert at Australian National University Professor Andrew Norton said universities were incentivised to make early offers to try to lock in students in a competitive market.
"It's probably a combination of it being a relatively small cohort of year 12s and many mature age students dropping out or choosing not to study because of the strong labour market," he said.
Most institutions that have a direct early entry scheme have reported a significant increase in the number of offers made compared with previous years.
Western Sydney University has already made 6800 offers through its early entry scheme, up 26 per cent on the same time last year, with a further three offer rounds remaining. Offers at Charles Sturt University have risen about 21 per cent from the same time last year, with 4022 made so far.
Australian Catholic University said it had received 500 more early offer applications compared with the same time last year, and has made 2900 offers to date. ANU has sent 5021 students early offers, up about 10 per cent from the 4562 at the same time last year. Macquarie University has also made early offers but did not disclose the number.
Other institutions including the University of Wollongong and the University of Technology Sydney are due to send out offers later this month or early October.
The universities' early offer schemes have different entry requirements and require the successful completion of the HSC, but are usually based on year 11 results instead of ATAR scores and can include personal statements and portfolios. Entry into select courses may be conditional on receiving a certain score or subject result.
Students can apply directly to participating universities or through the Schools Recommendation Scheme processed by UAC.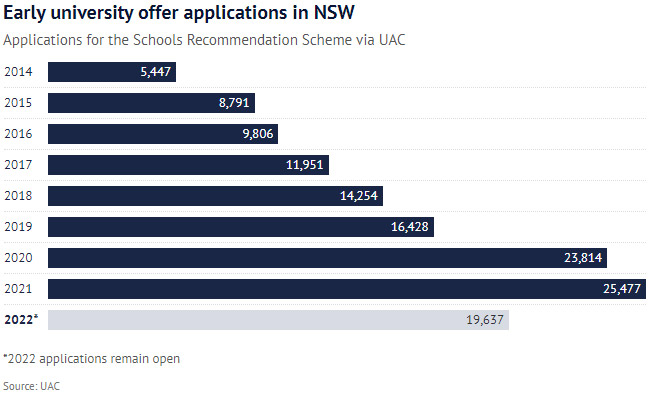 NSW Secondary Principals' Council president Craig Petersen said while early offers could lead to students being less motivated for their exams, pre-HSC spots could also soften the pressure of high-stakes tests.
"Students have been through significant disruption with COVID and heavily impacted by staff absences this year," Petersen said. "It takes a layer of anxiety off."
Principal at the Mackellar Girls Campus in Manly Vale, Christine Del Gallo, said while about a quarter of year 12 students at her school had received early university offers, she had concerns about the rapid growth in numbers.
"I don't have a problem with spots being offered to a very small number of students. But over the past few years, the numbers increased exponentially and it is concerning when a large proportion of year 12s know in July that they've got into a course," she said.
"They can slacken off, they don't place as much importance on their HSC."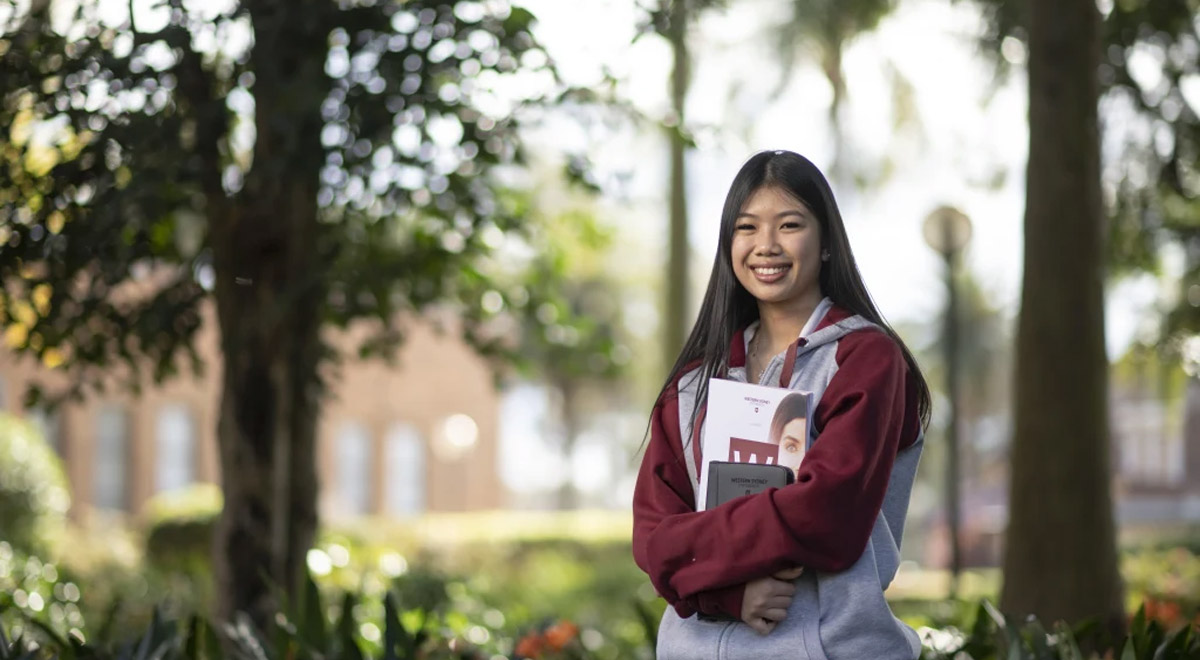 Medical science student Alisha Ouch was offered an early entry spot at Western Sydney University. Photo Credit: Wolter Peeters
Data from UAC shows applications for the scheme have more than quadrupled from 2014 to 2021, with 25,477 received last year.
Kim Paino, the general manager of marketing and engagement at UAC, said almost 20,000 applications had been received so far this year and offers were due to be made to students after exams in November.
"The feedback from schools is they'd prefer we don't make offers before exams," she said. "It does provide enormous comfort for students and there is no evidence they disengage from final exams."
At Caroline Chisholm College in Glenmore Park, 65 of the 140 year 12 students have already received at least one early offer.
Student Ella Yeomans, who has been offered a bachelor of education spot at Australian Catholic University, said there was a weight off her shoulders heading into the HSC exams.
"I'm still motivated for my exams because at the end of the day, I want to see what I can achieve after 13 years of schooling," she said.
Ella said the COVID-19 pandemic had caused widespread disruption to the last years of her schooling and had left most students with little to no experience in formal exams.
Third-year Western Sydney University medical science student Alisha Ouch entered her degree through an early offer and said it gave her reassurance while waiting for her ATAR.
"I was the first in my family to go to university, so having that security was really important to me," she said.