There is a quiet revolution occurring in the way we work.
"Work has long been important for the livelihood, dignity, and happiness of humankind. We intuitively and statistically know that work helps us meet our most basic and complex needs, providing a path towards financial security, mental and physical health, dignity and meaning." Jan Owen, OAM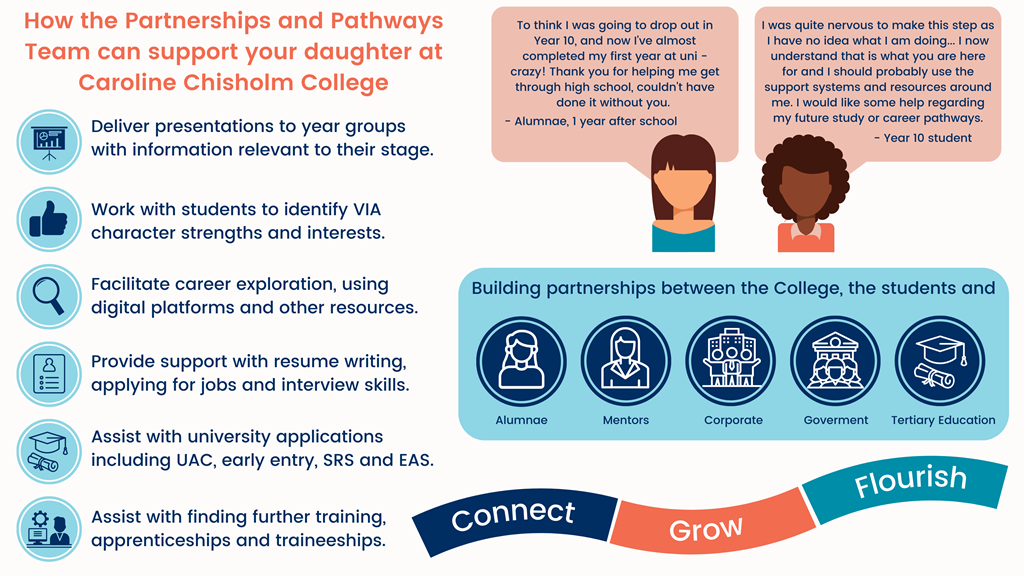 Here at the College, we are accepting of these changes and as a school community we are reviewing the way we approach education, study, training, and post school opportunities for our students. We are constantly working to keep our students up to date, ready and equipped with the essential skills for the new world of work.
Everyone has a role to play in putting the pieces of the career puzzle together. Caroline Chisholm are reaching out to connect with Universities, Businesses, Community Groups and other Caroline Chisholm alumni to facilitate our students with this transition.
If we can all help our young people find their 'passion' and 'purpose', the rest will fall into place, and being confident young women they will find their fit in study, work and life.
Remember: It may only take one piece of news to lead a student towards success in their life's career. Let's all keep exploring our options.
---
Careers Information Portal